OK, i don't normally write guides on art and give away my secrets. But this one can be done using a short cut, or some would call it cheating, but oh well. Here is a quick guide on how to make a GTAIV style painting on photoshop or paintshop pro. Both have the same or very similar tools so this should be really easy to follow. This task should take around 30-40 minutes. Difficulty - Medium.
1. First get a picture you would like to use. make sure it is sharp and clear, and a pretty decent resolution. Also note that the lighting of the picture plays a the main role in this process. So get a good angle with decent light. I have chosen this wax model of Al Pacino from scarface.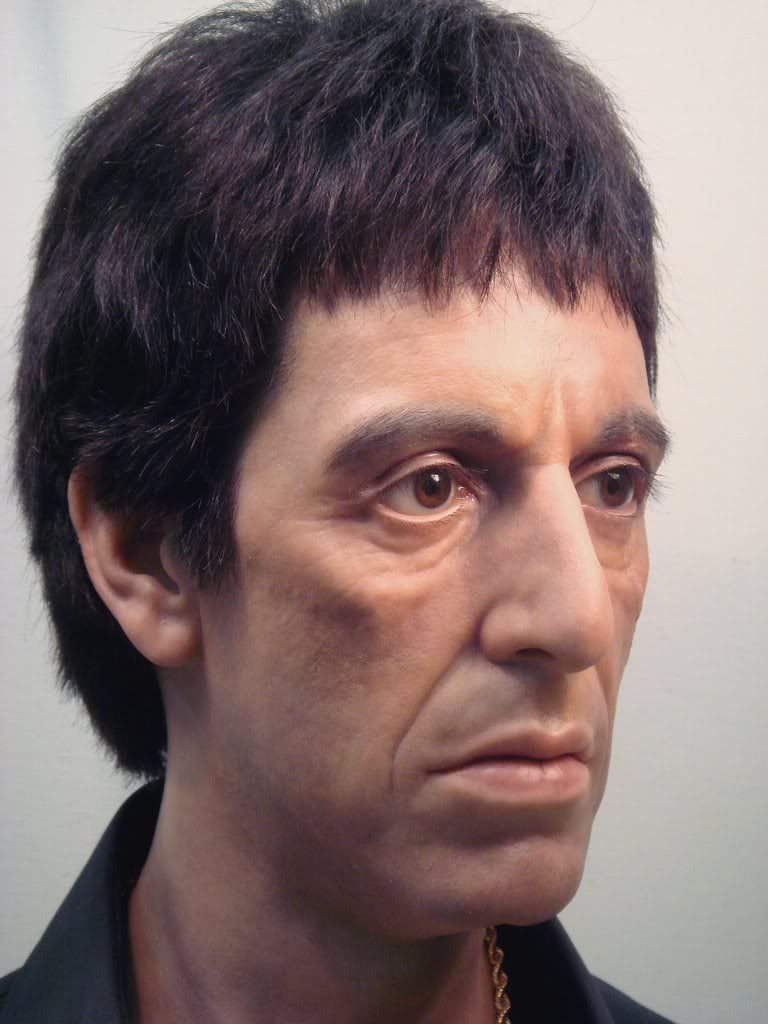 2. Now load up the picture in your program. For this i will use Paintshop Pro. And find the following tools. These will be the main tools you will be using. 1.[Dropper Tool] 2.[Paint Brush Tool] 3.[Smudge/Smear Tool].
3. Right, create a new layer above the first and then click on the dropper tool. Look at the image and see areas of skin which have very similar colours. Chose a colour and then select the paint brush tool to paint over the top of it.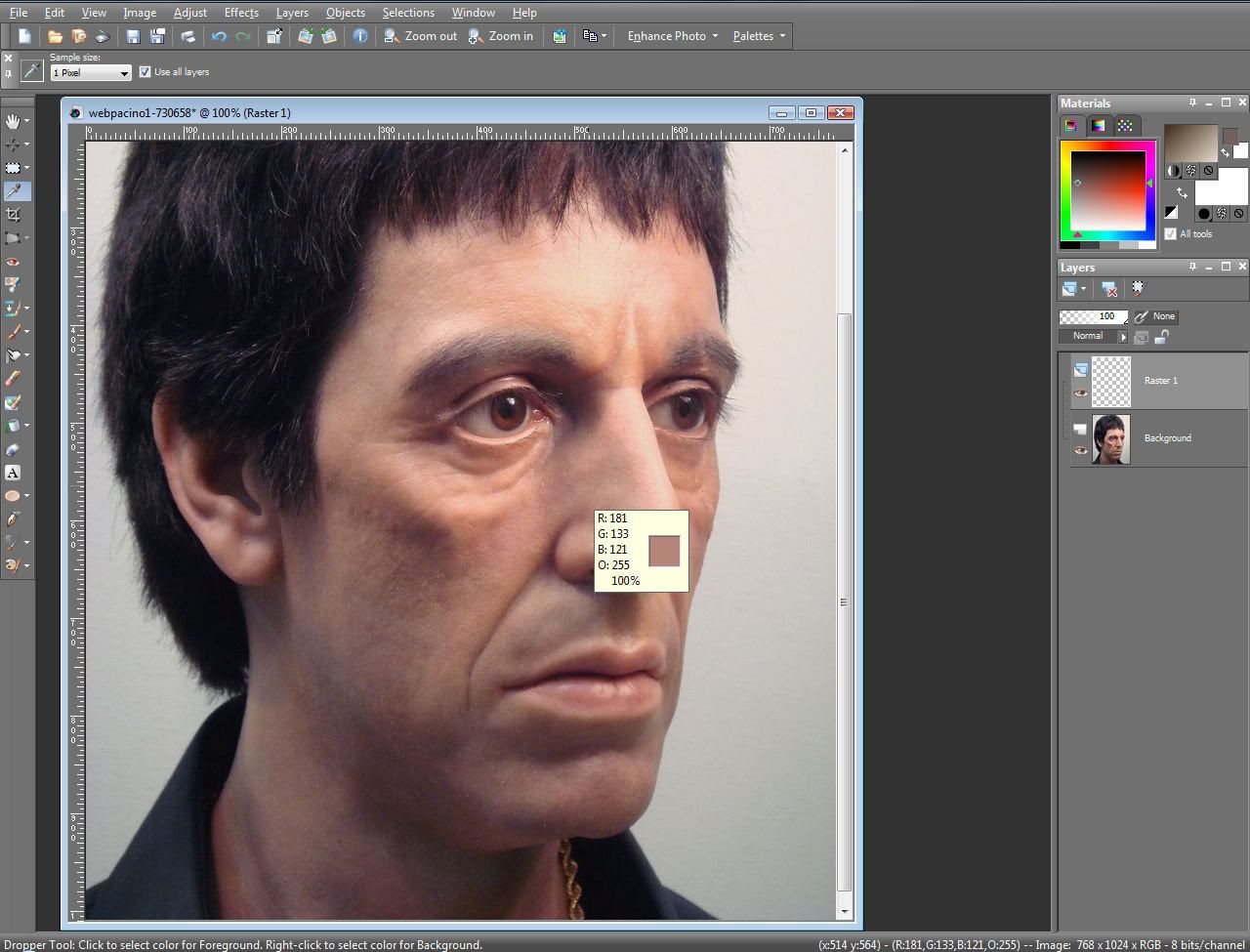 4. Now you should have an area of skin which has been painted over. When the colour starts to change dramatically select the dropper tool again and select another area of skin to paint over.
5. By now you should have started to cover a lot of the face with colours that sort of match the colours of the persons face. To get into those smaller finer details, simply change the size of the brush to a much smaller tip.
6. Once you have completely covered the Face it should look something like this:
I'd advice you to save it at this point in-case you mess up.
7. Now select the Smudge or Smear tool (depending on what program you use). And then start to rub the colours together so they blend a little better and to give it a brush effect. And when you feel you've got it the way you want it stop smudging it.
8. Now on a new layer repeat the same thing from stage 3 to stage 7 for the hair so that the whole head is covered.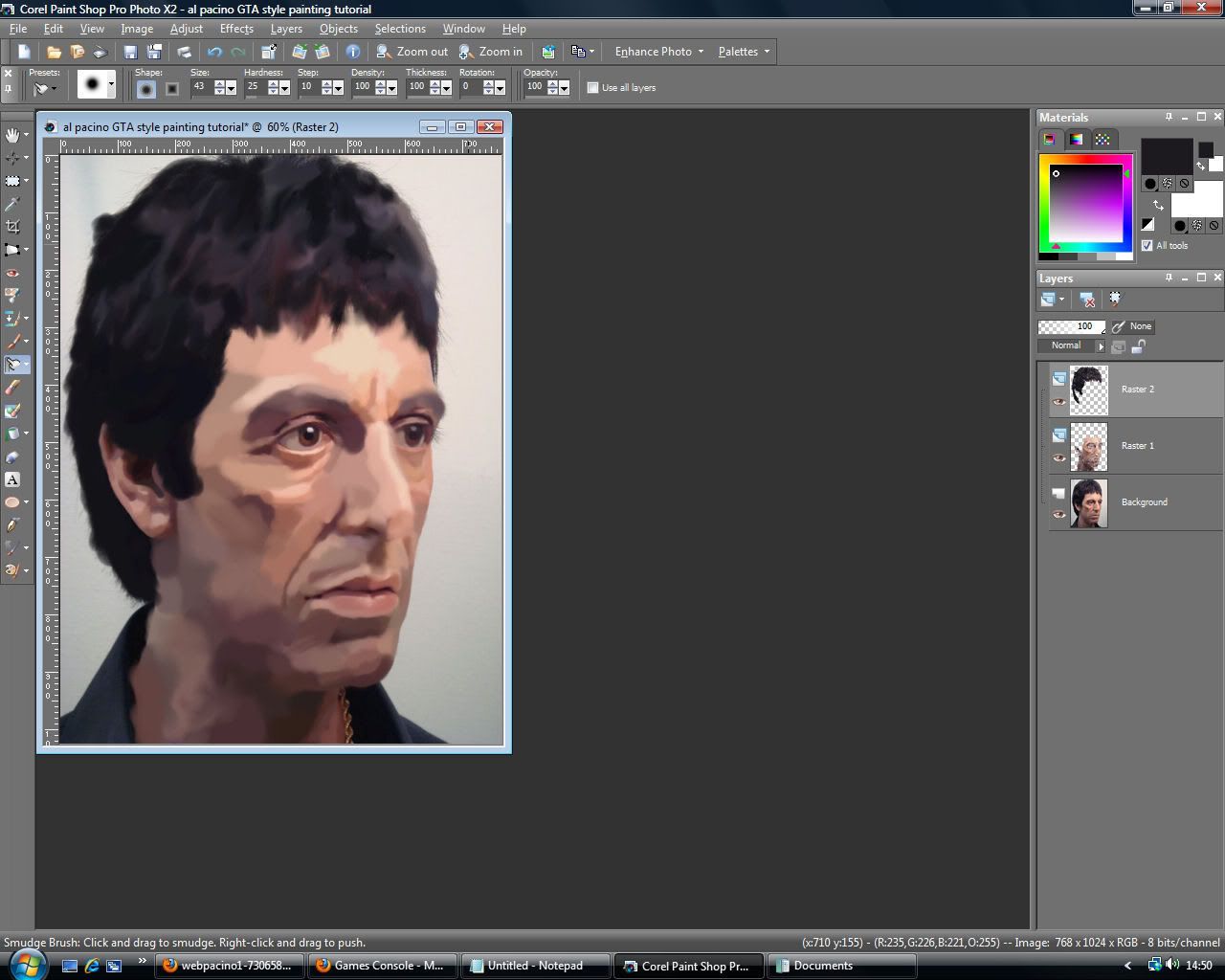 9. OK so you have to now duplicate both the skin layer and the hair layer. Now change the layer settings on both of them to Multiply. This will help give it a more rich tone and depth. Change the hair multiply layer to about 15% and the skin multiply layer to 45%.
10. Now save the .PSP/.PSD file one more time because we are going to merge all layers. Now using the freehand selection/lasso tool, you need to cut around the head to remove it from the background. CTRL-C to copy it. And make a new canvas and paste it to it. It should look like this:
If you've read this and not tried it, GO TRY IT NOW! It's pretty easy really, just takes a little bit of patience. I'm intrigued to see what people make from this tutorial!
Oh and the more time you spend on it the more detailed it will be. This was just an example and took me about 15 minutes, so i did rush it to be honest.