As we all know everyone knows what they want to do since they were 6 and playing with said toy (eh...yeah right), the table below shows IQ in relation to the job people do, my question to you is what job do you do now or plan to do in the future, of course some people won't know but most people can look and work out a general direction and then what category you would put yourself in on the table, the IQ ranges for nearly all the categories is pretty wide so it doesn't really matter.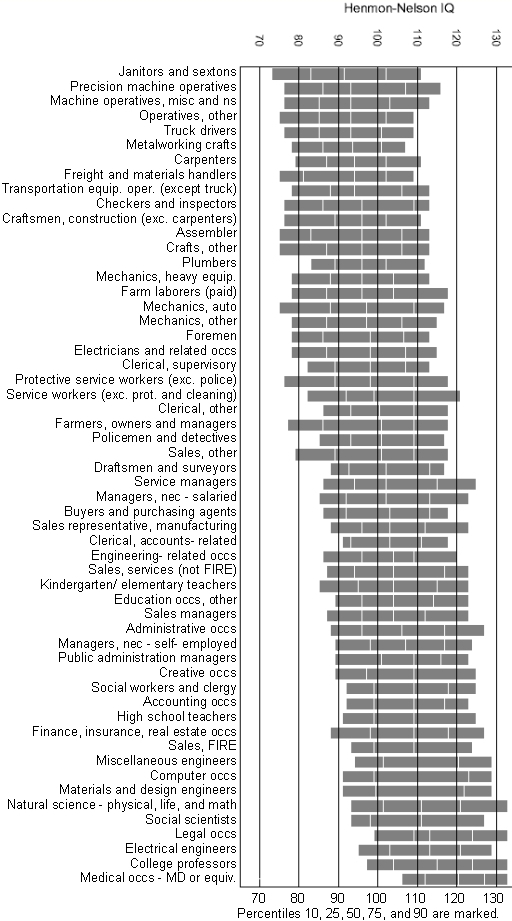 Secondly on an unrelated note, but kind of fits into the whole scienceyness of the topic thought I would add in music tastes and how it relates to personality
Article
It says a list at the bottom of the page of a not very inclusive list of music types, but we will have to live with it, just say what group you would put yourself in.
Personally I am a natural scientist which puts me pretty high on the table and like Metal and Dance (Not technically Dance as that is a completely different style to Hard Trance and general generic club music but that is the closest category)
Then there is real question of does IQ actually show intelligence? and of course secondly do you do agree from your own personal experiences of knowing people with different music tastes whether you agree with the classification the study gave them or do you personal experiences differ?
From my own experiences of metal fans I have know throughout the years which is quite vast generally I would agree with the gentle and at easy statement. In some of the girls the Low self-esteem seem particularly prevalent, I wouldn't say so much in the guys but maybe I just don't notice it as much. Not-hard working I suppose would be true too. Most of my mates either do pretty easy courses at uni (non-academic) or don't go, however whether that makes them not hard working in a non-classic form is another unanswered question. In the case of creativity I would agree most are either into Art or music in some way including myself.
Myself I would have to say I fit the group fairly well, not great self esteem but as everyone say it is how you act that people take you on and if you act it you live it, so it is mainly in my head, on out goingness, i'm not really an organiser but if people are doing stuff I will come along and chillout, not particularly spontaneous but if there is a group of people might as well go with it. I would say I am pretty hard working, or at least can be when I need to be, wouldn't actively go out my way to do extra work unless I actually wanted to though. Wouldn't say I was particularly gentle, well maybe I am but I think it is kept in my head (whey for being a guy!) rather than showing it, I would say I am fairly at ease with things, most stuff doesn't bother me.
Anyway enough about my shortcomings, over too you.
(This topic is so going to fail on the internet, we all know we are just a bunch of self loathing Sociopaths)