There's been a few new pieces of Grand Theft Auto news out in the last week or two which we've not posted yet, so I thought I'd take it upon myself to keep everyone updated.
GTA4 PC Delayed
The PC version of Grand Theft Auto IV has been delayed by 2 weeks to December 2nd. Not really surprising seeing as pretty much every version of the game has had some kind of delay, but with the number of top games coming out in the next month or two, I'm sure it won't be that much of a problem for gamers.
GTA4 PC System Requirements
Finally, the official system requirements have been announced for the game. As you'd expect from a next gen video game, you're going to need a pretty beefy system to play it maxed out.
Minimum System Requirements
OS: Windows Vista - Service Pack 1 / XP - Service Pack 3
Processor: Intel Core 2 Duo 1.8Ghz, AMD Athlon X2 64 2.4Ghz
Memory: 1.5GB, 16GB Free Hard Drive Space
Video Card: 256MB NVIDIA 7900 / 256MB ATI X1900
Recommended System Requirements
OS: Windows Vista - Service Pack 1 / XP - Service Pack 3
Processor: Intel Core 2 Quad 2.4Ghz, AMD Phenom X3 2.1Ghz
Memory: 2 GB (Windows XP) 2.5 GB (Windows Vista)
18 GB Free Hard Drive Space
Video Card: 512MB NVIDIA 8600 / 512MB ATI 3870
PC Version Previews
A few previews have been released over the web in the last couple of days with some interesting snippets of information about the pc version of the game.
IGN
Custom filtering for multiplayer matches, allowing you to find exactly what you want to play with many configurable settings.
The game is exactly the same as the console version, however a maximum resolution of 2560 x 1600 pixels is supported, and the game can be played with both a mouse and keyboard, or controller.
The game looks and runs a lot better than the console version, with less pop-ups in the distance.
The replay editor allows you to put the camera from the viewpoint of anyone in the general area which you've recorded. For example viewing it through the eyes of someone Niko's blown away with a shotgun. Awesome.
You're also able to set up camera movements, such as having them following Niko, probably in some way similar to the game trailers.
The game features single-player achievements (Games For Windows), and multi-player anti-cheating software as well as "distributed worldwide servers for robust online play".
SPOnG
Nothing really new, just explains in a bit more detail about the replay editor and how you can set two points in the editor and have the camera swoop across from one to the other. If you've always wanted to be a director, then you'll probably love this. I can see quite a few well made GTA4 "movies" appearing online soon.
Kikizo
Rockstar Toronto have been working on the PC version of the game while Rockstar North continue to work on the downloadable content for the XBox 360.
You're able to adjust many options in game, such as the draw distance, and even the density of the vehicles, from 1 to 100%. Rockstar even mentioned that the console version of the game would only actually be running the vehicle density at 33% of that possible on the PC version.
Kikizo also point out that the increased texture resolution makes it easy to read all of the adverts and posters in the game, such as those in the subway which are nothing more than a blur on the console versions.
Golden Joystick Awards
Grand Theft Auto IV won two awards at the golden joystick awards, but game of the year wasn't one of them. That went to Call of Duty 4: Modern Warfare, which came out last year... But there you go. I have no idea how those awards work. The awards GTA4 won were "BBC 1Xtra Soundtrack of the Year" and the "ARVATO Xbox Game of the Year". Rockstar Games were also awarded the "CVG.co.uk UK Developer of the Year" prize.
Check out the other winners at
Computer And Video Games
.
Grand Theft Auto In Real Life - Video
I received an email today with a link to a video on YouTube. I get a fair few of these, and generally they aren't anything special, but I thought this one was worthy of a mention because it's fairly well done. Check out
Grand Theft Auto in Real Life
by Squeaky Fresh Productions.
Big GTA4 Map
Finally, I present to you, a clean version of the map I created for all of our maps and guides on the website. Feel free to destroy this as you see fit, but if you're going to post it on your website, please leave the GTA4.TV logo in the bottom corner, and link back to our website if possible.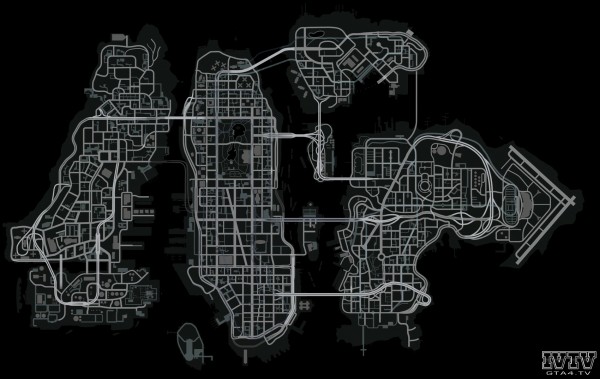 If anyone is interested in writing news articles for our website, please get in contact with me either on the forums, or by email. Many of our staff have other commitments which means we're unable to stay right on top of the breaking news, but if someone out there thinks they can, we may just give you that opportunity.