As promised a week or so ago, here is our
Flying Rats
map and guide for GTA4 covering all 200 of the hidden pigeons. The detailed map pinpoints their locations, and there's a text description to go along with each one to explain the best way of finding each bird. For even more assistance, there is a high definition screenshot of each and every pigeon location too. Some of the pigeons were hidden behind objects on the screenshots, so you'll find a golden ring drawn around every single pigeon just to highlight exactly where they are.
The 200 hidden pigeons are, in my opinion, one of the most annoying and time consuming parts of getting 100% in GTA4, but with the guide and map, hopefully it will prove to be a little simpler for anyone still hunting them. Click below to view the guide.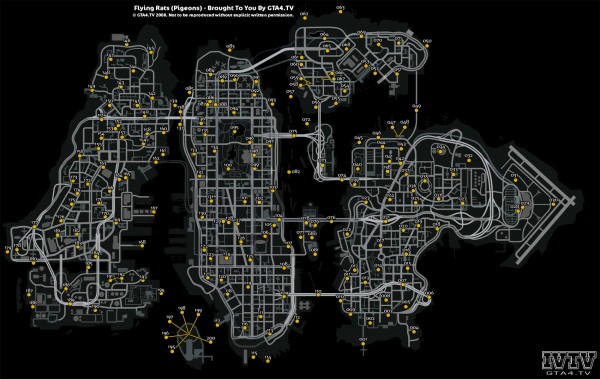 I ask that no other webmasters use this, or in fact any of our maps on their own website without asking me permission first.
I will now begin working on the Unique Jumps map which should hopefully be completed in the next week or two.
As always, leave any feedback or problems you have in this topic.