It's long overdue, however I have finally got around to putting the Text Message Cars map and guide live on the website. The reason that I didn't want to rush out a map was because I'd rather have a map that is of much better quality, and much easier to use, than a hard to see, pixellated image, just for the sake of getting it out early. Now I'm aware that these maps are probably no longer relevant to many people with 100% completion already, however for the PC gamers who will get hold of the game in around 100 days time, these maps should prove to be very useful.
I actually pieced together the full map using screenshots of the pause map. It was a gruelling process which took almost 24 hours of work, however I can now present to you, arguably one of the best looking and easiest to follow GTA4 maps on the net.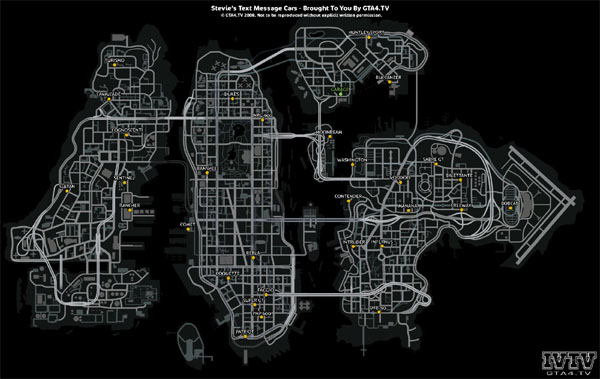 I am in the process of creating a map for the pigeons, and then unique jumps after that, so stay tuned.
I ask that no other webmasters use this, or in fact any of our maps on their own website without asking me permission first.
Enjoy.