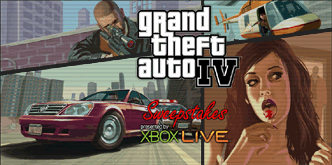 Pardon for posting this a little late but if you've haven't been up to date with the going-ons of GTA4, we got a treat for you.
Microsoft is hosting an
Xbox LIVE sweepstakes for GTAIV
. The grand prize will be a trip for two at the Grand Theft Auto IV launch party in New York City. (No word yet if the party will serve free booze and hookers with burly russian dudes as security...) Unfortunately for the canucks and brits, this giveaway is only available to US residents.
Here is a full list of the prizes you can win from signing up.
Four Grand Prizes: Four winners will get a four-day/three-night trip for two to New York City to attend the Xbox LIVE Gold Grand Theft Auto IV Launch Party.
100 First Prizes: Custom Xbox 360 Elite console.
2,000 Second Prizes: Rockstar baseball bat.
5,000 Third Prizes: 500 Microsoft Points.
3,000 Fourth Prizes: 1000 Microsoft Points.
2,000 Fifth Prizes: 1600 Microsoft Points.
5,000 Sixth Prizes: One-month Xbox LIVE Gold subscription.
3,000 Seventh Prizes: Three-month Xbox LIVE Gold subscription.
2,000 Eighth Prizes: One-year Xbox LIVE Gold subscription.
The sweepstakes is open until the
14th of April, 2008
. So please don't procrastinate like you would on that mid-term paper you've been holding out on. You can fill out your form
here
and read the eligible rules
here
.
Also, it appears the page for the sweepstakes is down. Be patient as it seems it's from a service overload.